Budget
There are two types of ways you can set a budget up against a Project. Projects are set up by default with No Budget. You can choose to have:
Set a Budget Against a Project
Navigate to your General Settings modal by either creating or editing a project and select 'Billing and Budgets'. Here you can set budgets as well as set project hourly rate.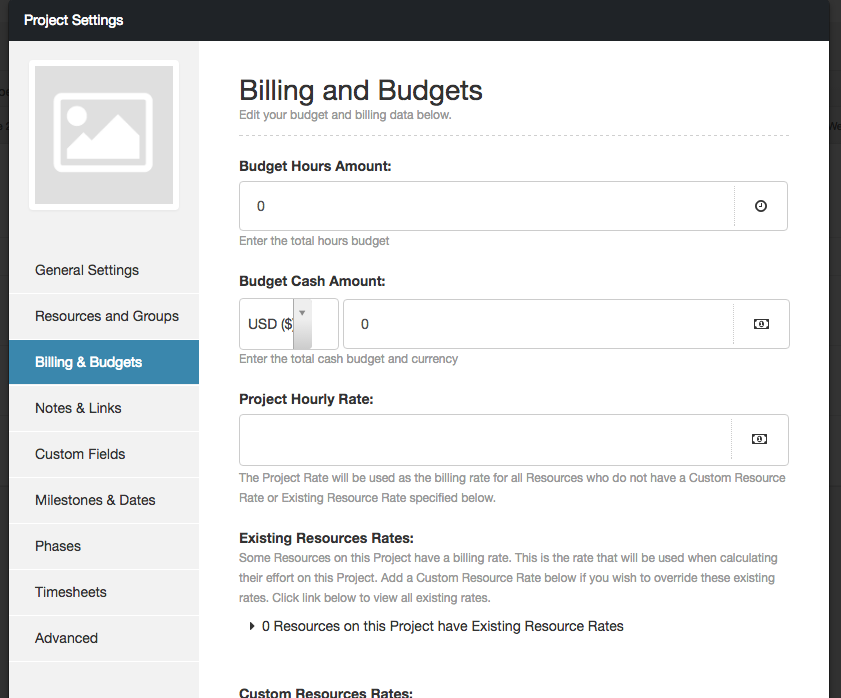 Total Project Hours
Set the maximum amount of hours that your budget allows. We will track this in the reports and show you how the progress is going based on your total hours booked and reported so far.
Total Project Cash Amount
Set the budget in cash amount for the project. You will also need to choose whether to use the Default Billing rate or a Project Custom rate.
You can now generate Project Progress reports which will show based on the hours consumed how much budget is left to plan with.
To generate Project Progress Report:
If a Resource has a custom rate, we will use that for that resources contribution to the project. This is useful if certain resources are billed differently than what the project rate is. e.g. Senior Staff

If there is no resource rate, then we will use the Project Rate which could either be custom or default

If there is no project rate set, we will use the company rate