Clever Resource Management
Hub Planner is the complete Resource Management Solution, designed for small, medium and Enterprise level businesses. Includes Resource Scheduling, Timesheets, Project Planning, Approval & Dynamic Reporting.
Resource Management Software
Hub Planner is a Resource Management Software helping enterprise and small-medium sized businesses plan and strategize their resources, staff and team on all levels. Our modern and well-designed resource management software allows you to schedule and book your people and projects on a calendar-type grid, presenting you with the big picture of what your team of resources are working on and when. The main features of Hub Planner can be broken up into the following components.
Intuitive Usability, Creative Design and Smart Technology
Hub Planner is built with the modern project manager, resource planner and CEO in mind. We care about information architecture, usability and nice design powered by smart technology. For Hub Planner customers this means your business experience using our service is excellent. You are already familiar with the modern standards set by the many popular consumer services out there, we simply keep that standard going in your business life.

  Swedish Design & Technology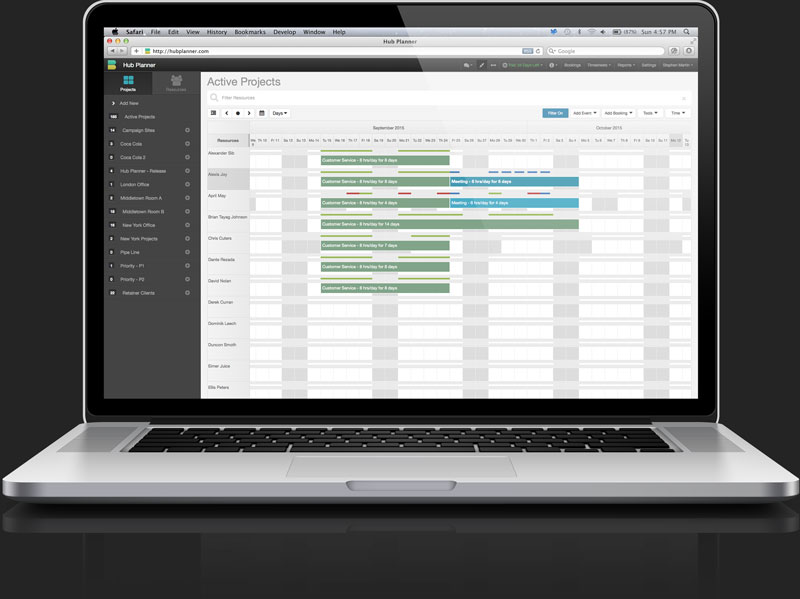 In every industry you will find businesses who use Hub Planner
Communications

Technology

Production

Digital

Media

Communications

We're Here To Help Take Control of Your Resource Planning

Through a Creative and Smart Resource Management Solution

Hub Planner is built with every industry in mind with a generic platform giving you full control to tailor the key-wording to your industry business language while taking advantage of all the features Hub Planner has to offer. To help we have created a few resource planning templates and case studies to get you started.
1 Resource to 1000 + Resources
we scale with you
Small Businesses
Small businesses like digital web agencies, boutique shops, small firms need good planning.
Medium Businesses
Anywhere from 50 - 400 resources. You probably have resources and offices located globally.
Enterprise Businesses
Currently using Enterprise Level Systems to manage your teams of Resources.
Resource Planning Templates
Web Agencies
Hub Planner is perfectly suited for any web agency managing multiple projects. In fact both the founders of Hub Planner come from the web industry so have specifically made sure this will fit the needs of Producers and Project Managers tracking resource and planning time in their web projects.
Human Resources
HR managers are usually tied up with hiring, firing and building a strong team around a companies brand. With Hub Planner we wanted to build an awesome resource planning tool for production departments which compliments the input of the HR department.
Consultancies
Hub Planner is perfectly suited for any consultancy placing people in different job locations around the city or country. Hub Planner gives you the ability to get a great overview of where you consultants are placed and when their contract expires.